August 2014 Newsletter
Posted by Tim Lester on Monday, August 18th, 2014 at 3:44pm
Increased inventory levels in June helped push existing-home sales to their highest levels since October 2013, according to a recent report by the National Association of REALTORS (NAR). Existing-home sales, which include recently purchased single family, townhomes, condominiums, and co-ops rose 2.6 percent in June to a seasonally adjusted 5.04 million units for the year.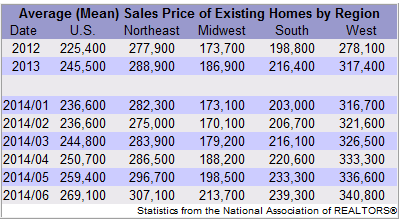 NAR chief economist Lawrence Yun believes the market is moving in the right direction. "Inventories are at their highest level in over a year and price gains have slowed to much more welcoming levels in many parts of the country. This bodes well for rising home sales in the upcoming months as consumers are provided with more choices," he said. "On the contrary, new home construction needs to rise by at least 50 percent for a complete return to a balanced market because supply shortages – particularly in the West – are still putting upward pressure on prices."
Nationally, total housing inventory increased 2.2 percent during June to 2.3 million units. The median time for homes to sell was 44 days in June, down from 47 days in May. Forty-two percent of June home sales were on the market for less than a month.
Make Your Offer Count
With today's competitive housing market, it is more important than ever for home buyers get their financial house in order when applying for a loan. Be sure to review your credit report with your mortgage professional and get pre-approved for your loan before making an offer on a home. A little preparation goes a long way and can mean all of the difference when it comes to closing on that dream home. Contact us today to get the right loan for your current needs!
Tips for Home Sellers
When preparing your home for sale, a number of simple cosmetic changes often provide the biggest return on investment. Here are three tips to upgrade your house without breaking the bank:
Bring in the light. The right light creates the right mood. Adding lights to dark rooms can make your home feel warm and inviting. Bring outdoor light inside by opening curtains and installing economical suntubes.
Create Space. Many of today's buyers are looking for open rooms. Consider removing unwanted walls to make your home feel more spacious. Buyers will often pay a premium to get a bit of extra room.
Replace Flooring. Get rid of that old carpet in the den and replace it with today's newer hardwoods and laminates. You don't have to spend a lot to make a big impression!
These simple tips can help you sell your home and take advantage of today's market. Please contact us if you have any questions about selling your home. We are here to help!